Welcome to Getnö Gård, located in the heart of Lake Åsnen, known for its abundance of fish. Welcome to Getnö Gård, located in the heart of Lake Åsnen, known for its abundance of fish. The area constitutes a somewhat unusual sea landscape with thickly, wooded strands and forest meadows, as well as deciduous and evergreen forests in wonderful natural surroundings, rich in animal and birdlife. Getnö Gård is situated on a number of peninsulas with its own archipelago that offers an eldorado to visiting sport fishers. There is an abundance of pike and perch, as well as zander and eel. The lake is also rich in a number of interesting whitefish such as tench, bream and rudd, but it is also a special lake for rainbow trout and tough-to-catch carp.
Fishing waters
Getnö Gård's sport fishing waters are privately owned and make up in total 1,000 hectares. The lake's abundance in plankton results in fast-growing fish and together with the lake's large areas of shallow water, fish production is very high. Besides our own fishing waters here in Getnö, there are a further 14,500 hectares of Lake Åsnen to fish in, as well as "put and take" fishing in the 14 hectare large Lake Kålsjön.
Fish species
Pike, perch and zander are the three largest species in Lake Åsnen. It is also rich in eel and a variety of whitefish such as bream, tench, rudd and roach. There are, in total, over 20 species of whitefish.
Fishing methods
Spinning for pike perch and zander. Troll angling for zander and pike, jigging for perch, burbot, etc. Bait fishing for carp and other whitefish, and fly-fishing for trout and salmon.
Fishing guides
Getnö Gård's fishing guides know the waters here like the back of their hands and can show you to the hottest fishing spots. A special troll angling boat may be used. We arrange fishingtours with guide, such as Pikesafari and Nightfishing for zander.
Boats and fishing equipment
There are up to 20 boats available for rent at Getnö Gård. The boats, both plastic and aluminium, are fitted with 4hp/4-speed motors or with electrically-powered motors. Rental costs cover a water depth chart and a nautical chart. Special size boats are available for troll anglers. At our reception, you can enhance your fishing equipment with the best bait for Lake Åsnen, as well as find out where to fish, rent an echo sounder, canoes and bikes.
Accommodation
There are 15 self-service vacation homes to choose from at Getnö Gård. The number of beds ranges from 2 to 14 beds, where the size ranges from 1 to 7-roomed accommodation with kitchen facilities. Getnö also offers a 3-star naturecamping with 150 sites that is beautifully located in natural surroundings.
Food
Getnö Gård has it's own fully-licensed restaurant (groups have to book in advance), as well as a shop that sells groceries and souvenirs. We also have a pub; Getnös Moosebar, with a large meeting area and conference facilities.
Other services
Getnö Gård is also at your disposal for company or club events such as conferences, courses or parties. We have large meeting areas and lecture facilities, fitted with the last multimedia technology, as well as offering fully-licensed restaurant services. These events are often arranged in line with outdoor activities and teambuilding acktivites; Viking adventures.
Other activities
There are a wide range of other activities to be enjoyed at Getnö Gård, such as canoeing, cycling or why not try our teambuilding Viking adventure? Canoes and bikes can be rented and we also have our own tennis court. There are a number of various length (3-4-5 km) hikes to choose from in the area for those who wish to see Getnö on foot. Wild fruit and mushrooms can be picked in the area. There are also a number of excursions that can be made in the area.
Getting to Getnö
Getnö Gård can be reached by car, train or plane. We can organise pick-up at Smaland Airport in Växjö, which has daily connections with international flights, or at the railway stations in Alvesta, Växjö and Älmhult. We can also pick you up at the ferry terminals in Trelleborg, Helsingborg, Karlshamn and Karlskrona. Please request a price quotation.
Equipment
Our fishing shop stocks the latest equipment, with a range of special lures and wobblers suited for Lake Åsnen. Bed linen and towels are available for rent. Fishing tackle can also be rented.
Fishing waters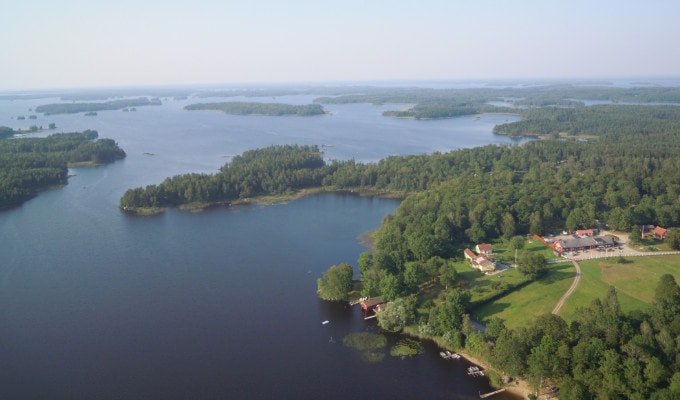 | | | |
| --- | --- | --- |
| Normal | Weight | Record |
| Pike | 3-5 kg | 19,5 kg |
| Zander | 3-4 kg | 11,3 kg |
| Perch | 0,3-0,5 kg | 2,8 kg |
| Eel | 0,5 kg | 3,6 kg |
| | |
| --- | --- |
| Winter |  January - February |
| Spring |  April - May |
| Summer |  June - July - August |
| Autumn |  September - October - November |
Prices for Fishinglicence and Rules for fishing in lake Åsnen
Prices in SEK
entire lake Åsnen
| | |
| --- | --- |
| Yearly licence | 1000:- SEK |
| Monthly licence | 500:- SEK |
| Weekly licence | 400:- SEK |
| Daily licence | 120:- SEK |
Min- and Max.
Dimensions:
| | |
| --- | --- |
| Pike | min. 50 cm - max. 80 cm |
| Pike-perch | min. 45 cm - max. 70 cm |
| Eel | min. 70 cm |
| Salmon trout | min. 40 cm |
Åsnen Depth map 100:- SEK
Rules for fishing
The fishinglicence is ONLY valid for fishingrods.
Youngsters under the age of 16, fish for free.
The licence is personal and valid the the specific area. It must be shown to inspectors on demand.
When Trolling (dragging behind the motorboat) a maximum of 2 fishing rods are permitted per licence.
Maximum 2 fishes, pike or zander, per fishing licence and day are allowed to bring out. Otherwise is the catch-n-release method to be used.
In the whole month of May, it is forbidden to catch Zander (pike-perch), it is protected.
White fish and perch should not be returned into the lake.
All fishermen are asked to respect privately owned jetties (100 m) beaches and other permanent equipment; (such as traps, nets etc.)
Fishermen should also show respect and follow the general demands made by the public right of access. Also respect the prohibition of landing on islands with signs of bird protection areas, 1 April - 31 July as well as 1 February - 15 August. Please see the map.
You can buy the fishinglicence from resellers as well as digital on i-fiske.se
News & Special Offers
We keep you updated about news and special offers from Getnö - Lake Åsnen Resort.