The new national park was inaugurated on May 25, 2018 by the Crown Princess of Sweden, Viktoria. Åsnen National Park is Sweden's 30th National Park. The national park primarily includes parts of the nature reserves Bjurkärr, Toftåsa mire and Västra Åsnen's archipelago, as well as the legendary place Trollberget. The area is in Alvesta and Tingsryd municipalities and on the border with Växjö municipality.
The main entrance is in Sunnabron while there is also a smaller entrance in Trollberget. The broad-leaved forests in the area are unusually rich in species, mainly in terms of lichens, fungi and living insects. It is more than a hundred islands, forests, wetlands, and the water environment together mean that the entire Åsnen area has a rich birdlife, including osprey, sea eagle, great loon, and lark. The area represents the southern Swedish plain landscape. A visit to the area offers the visitor a wilderness feeling, old beech forests, many islands and islets and a rich flora and fauna. The national park has an area of 19km2, it has about 200 islands and 75% consists of water. A unique lake archipelago. You can easily get into the national park area from Getnö-Lake Åsnen Resort.
The island world and leafy forests offer many experiences. A wealth of biological diversity with variations during different seasons and the opportunity to hike in the forest, cycle or go out on the lake. At Getnö, we can help you plan your visit to Åsnen National Park. It is easy to reach the National Park by canoe/kayak, bicycle or on foot. The Värendsleden canoe trail goes through the National Park and the Banvallsleden bike trail goes directly past Trollberget, the western entrance. You can also walk from Getnö down to Toftåsa Myr, which is the southernmost part of the national park.
The entrance in Sunnabron (main entrance): here you can find all the information and nice hiking trails to walk, from 2km to 8km. There are barbecue areas and nice viewpoints, as well as jetties.
The smaller entrance in Trollberget (west entrance), located on the west side of Åsnen. Here you can do short circular hikes between 1km-2.5km. You can also go up to Ramnaberg, Åsnen's highest viewpoint.
There is also a nice place to stay overnight called Utsikten. It has wonderful barbecue areas, piers, and information about Sweden's different environments. It is exciting to see the small mountain and read about legends and stories from the past. There are also several other canoe campingsites in lake Åsnen. All the materials in the National Park's buildings are made of oak from the fine oak forests.
Everything is built on nature's terms. Åsnen National Park exists to preserve the natural and cultural values of Lake Åsnen. This is for nature's sake and for our future generations. We at Getnö strive to protect nature and we want to offer quality nature experiences. At the same time, we want to provide knowledge about our beautiful and unique nature in the Åsnen area. See our guided packages at ÅsnenGuiderna.se Welcome to Nature's Paradise
Lake Åsnen and "Nature's Hall of Fame": Åsnen National Park.
- Nature is like a Band-Aid for the soul!

Ingrid E-M Olsson
National Parks Ambassador
Getnö Lake Åsnen Resort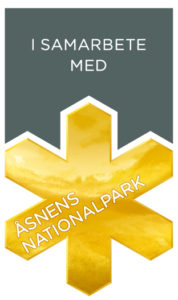 Are you interested?
Please write us an email and we will help you.
News & Special Offers
We keep you updated about news and special offers from Getnö - Lake Åsnen Resort.