We will guide you to the best
nature experience in lake Åsnen
Guidepool for all naturelovers
Åsnen Guiderna is a guide pool for the entire Åsnen area. We can guide you to various nature experiences such as pike safaris, exclusive kayak tours, osprey safaris, night fishing for pike-perch, game watching, vertical fishing, bicycle tours, guided boat tours, nature school for children and fishing school.
Our guide packages often include local food or local picnic baskets.
Lake Åsnen 155km²
The lake Åsnen has an area of 155km2 and a unique lake archipelago with over 1000 islands. A unique nature paradise and a fantastic place for birdwatchers, canoeists, fishermen and nature lovers alike. There are several nature reserves, bird sanctuaries and a prospective National park (2017). Åsnen has an average depth of 3-5 metres and is known for its rich population of both pike and zander.
Discover the BIG FIVE of ÅSNEN
Osprey, black-throated diver, moose, white-tailed eagle and crane.
With a little luck, you may also see the provincial animal of Småland: the otter.
WELCOME TO THE ÅSNEN - NATURE FOR REAL !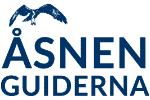 News & Special Offers
We keep you updated about news and special offers from Getnö - Lake Åsnen Resort.